Join us at the Springfield RV, Camping & Outdoor Show
The Largest RV Show in New England!
Whether you are looking for your next RV, shopping for camping accessories, or scoping out new, exciting campgrounds or outdoor experiences, our show has something for everyone. This show brings together over 200 exhibitors including leading RV dealers, campgrounds, and specialty products in 3 heated buildings…spanning over 270,000 sq. ft.!
Admission
Adult Admission: $10
Senior (60+), DAV, Military: $8
Children 12 and Under: FREE
Parking: $5
Parking collected by Eastern States Exposition Fairgrounds
TICKETS AVAILABLE AT THE DOOR ALWAYS!!!!!
Hours
President's Day Weekend
Friday, February 18: 4PM-8PM
Saturday, February 19: 9AM-8PM
Sunday, February 20: 9AM-6PM
Monday, February 21: 9AM-4PM
To get our special rate for the Sheraton Springfield Monarch Place Hotel call 1(800)325-3535 or click here to make reservation.
DEALERS
All RV
Brandon RV
Country Camper
Crowley RV
Custom Camper
Hemlock Hill R.V
Hi-Way Campers
Lee's Auto and RV Ranch
Long View RV Superstores
Mann's RV
Miller Trailer Sales
Orchard Trailers
Pete's RV
Pete's RV
Redman's Trailer Sales
Seacoast RV Superstore
Tim's RV, Inc
CAMPGROUNDS
Abel Mountain Campground
Aces High Campground
Acorn Acres Campground
Adventure Bound Camping Resort
Amazon Camperforce
Apple Island Resort
Ashuelot River Campground
Bluewater Hospitality
Bonnie Brae Campground
Bonny Rigg Campground
Bourne Scenic Park
Brialee Family Campground
Calef Lake Campground
Camp Coldbrook
Campground Owners of New York
Cape May County Department of Tourism
Circle C Campground Inc.
Country Aire Campground
Cozy Hills Campground
CT Family Campers & RVrs
Herkimer Diamond Mines K O A Resort
Kampgrounds of America
Lake Pemaquid, Inc.
Lakeside Camping
LedgeView RV Park
Lone Oak Campsites
Loon's Haven Family Campground

Maine Campground Owners Assoc.
Markham Meadows Campground
Martha's Vineyard Family Campground
Mass. Assoc. of Campground Owners
Mineral Springs Family Campground, Inc.
Mt. Greylock Campsite Park
New Hampshire Campground Owners Association
Niantic KOA
Northampton KOA
Oak Haven Campground LLC
Old Orchard Beach Campground
Papoose Pond Family Campground and Cabins

Pocumtuc Lodge –Western MA BSA

Papoose Pond Family Campground and Cabins
Pocumtuc Lodge –Western MA BSA
Powder Horn Family Campground
Prospect Mountain Campground
Ross Hill Campground
Running Bear Camping Area
Saco River Camping Area
Salem Farms Campground
Saratoga Escape Lodges &RV Park
Shir-Roy Camping Area
Sugar Ridge RV Village & Campground
Sunfox Campground
Sunsetview Farm Camping Area
Sutton Falls Camping Area
The Pines Campground
Village Green Campground
Wakeda Campground
Waters Edge Campground
White Pines Campsites
Wilderness Edge Campground
SUPPLIERS
2 Sew Sew Guys
A Shopper's Dream
AA Systems, LLC/Rainbow Systems
AMSOIL – Superior Synthetics LLC
Anderson's Brochure Distribution Service
Beaver Camper Service
Bolton Notch RV Storage / Certified On-Site RV Service
Capitol Golf Carts
CCE Golf Cars
Cerma Lube LLC
Colored Flames
Cutco
Daydream Design
E W Gardner Golf Cars
Euroshine, Inc, – BLC
Euroshine, Inc.- Young
Foozy Socks of New England
Fuller Motorhome Rentals
Greenworks
Hitch And Go Rv, LLC
Home Heat
In Stitches and Stuff
JRF Woodworking (OHL LLC)
Knives and Roses
Lakeside Gifts
Laurie's Custom Creations
Linked Studios
Lola Soap
Luso Federal Credit Union
Massachusetts Motorcycle Association
New England RV Roof LLC – RV FlexArmor
North Woods Moose Creations
Northeast Whitewater
Organix Therapy
Quadrini-USA
Reliable Products
RJ's Outdoor Power Inc.
Rvezy
Rvezy
Saltbox Seasonings
Soldier Solutions, LLC
Springfield Vet Center
The Country Duckling
Tobin RV Insurance Agency (FCIS)
Tupperware
Turmeric Store
Vast and Snappy
Waterless Toilets
FOOD
A Blend Above
American Frozen Foods
Vast and Snappy
Waterless Toilets
Berkshire Mountain Gourmet/Seven Barrels, LLC">Berkshire Mountain Gourmet/Seven Barrels
Boston Iced Teas
Crimson Lion
Gourmet Creations
Heidi Jo's Jerky
Heidi Jo's Jerky
Hills Home Market
Judecraft Specialty Foods
Pocono Pickle Guy
Pocumtuc Lodge –Western MA BSA
The Gourmet Cup Board
The Jerky Hut
The Mill Fudge Factory
The Nut Lady LLC
Valley View Acres
FREE
Caring for Kids
Clear Path for Veterans
Girl Scouts of Central & Western MA
NAFCA
One Call Away
Prize Area
PV8 Chapter Booth
PV8 Teen Club
Rainbow Rescue, Inc
Seminar Area
Shriners Hospitals for Children
Springfield Vet Center
Volunteer Booth
Book your group rate for SpringfieldSpringfield RV, Camping & Outdoor Show 2022 RV, Camping & Outdoor Show 2022.Click here to make reservation or call 1(800)325-3535.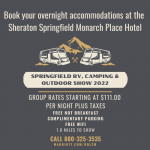 Frequently Asked Questions
Can I bring my pet?While we love animals, pets are not allowed at the show.
Are wheelchairs available?Yes, a limited number of free wheelchairs are available on a first come first serve basis. When you arrive at the show, visit the Better Living Center Show Office located near door 7 to inquire about available wheelchairs. A valid driver's license or ID will be required. We do not rent scooters or other motorized assistance vehicles.
Are the buildings handicap accessible?Yes.
Where can I buy tickets?Tickets are available at the show. Ticket booths are located at the Better Living Center doors 4 and 8, the Young Building near door 2, and the Mallary Complex near door 13. Your ticket is good for 1 day, whichever day you choose to attend.All ticket sales are final and non-refundable.
How much does it cost to park?The Eastern States Exposition collects $5.00 per vehicle.
Do you accept credit cards at the show?Yes, at all ticket booths.
Is there an ATM?Yes, there is an ATM located outside door 8 at the Better Living Center. If you need cash while inside the show, there are additional ATM's in the Young Building and the Mallary Complex.
What discounts do you offer?Seniors, Military, and DAV can purchase a ticket for $8.00 at the show.
What age is considered a senior?A senior is age 60 and older.
What if I lose something?Lost and found is located at the BLC office, Mallary office or the Volunteer booth in the Young building
Can I purchase a meal or snacks?Yes, the Eastern States Exposition has food vendors in each building. Independent from our show.
About UsSince 1962, the Springfield RV, Camping & Outdoor Show has been produced by the members of Pioneer Valley Chapter 8 (PV8) of NAFCA. Our members volunteer their time to set up and create this Show – a Show for campers, by campers!
What started in just one building has expanded into 3 buildings with over 270,000 sq ft of exhibitor space! The Show runs every February during President's Day Weekend at the Eastern State Exposition Fairgrounds in West Springfield, Massachusetts. The show takes place in 3 heated buildings – the Better Living Center, the Young Building, and the Mallary Complex. With over 200 exhibitors for you to visit, it is a great way to shake off cabin fever and enjoy a day with family and friends!
In addition to our large variety of exhibitors, we have seminars and family entertainment scheduled throughout the weekend – there's something for everyone! See WHAT'S HAPPENING for our seminars and schedules. Additional entertainment and activities will be available for KID'S DAY – MONDAY, FEBRUARY 21.
Plan a day of one-stop shopping! Explore new campgrounds, check out the newest RVs and camping equipment, plan an outdoor adventure, shop for a new accessory of your RV – or have fun trying out some of the latest gadgets! Take the time to attend a seminar – and bring the kids to watch one of our amazing entertainers! There's something for everyone throughout the entire weekend!
Our ClubPioneer Valley Chapter 8 (PV8) of the North American Family Camper's Association (NAFCA) is a club of more than 150 families that share a common interest in camping. Our club isn't just about camping. In addition to several campouts a year, we also host numerous adult, teen, children and family events throughout the year. Monthly meetings are held at our hall in Granby, Massachusetts.
We welcome you to visit our PV8 Chapter Booth in the Better Living Center for more information about our Club; or click here to learn more.
Vendors and attendees who have questions, comments, or concerns can reach out by mail, phone, and e-mail.Mail:PO BOX 2701 SPRINGFIELD, MA 01101Phone(413) 781-CAMP (2267)Fax:(413) 642-0324E-mail:CHAIRMAN@SPRINGFIELDRVCAMPINGSHOW.COM
The Springfield RV, Camping, & Outdoor Show is hosted by Pioneer Valley Chapter 8 of the North American Family Campers Association